Turning Water Bottles into Custom Reusable Bags?
[Editor's Note: We invited our friends at ReuseThisBag.com to write this article about their custom reusable bags. They have an interesting story to tell- we encourage you to check them out.]
Turning Water Bottles into Custom Reusable Bags?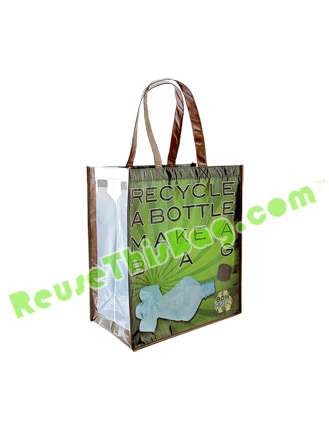 PET, which stands for polyethylene terephthalate, is a plastic resin and a form of polyester. You may be asking yourself the question, "Hey wait, I'm just here to read about cool and interesting things. Why are you telling me this stuff?"
To make a long story short, PET is the same plastic that is used to make water bottles, juice containers, peanut butter jars, salad dressing bottles, and a host of other things. These products are some of the most dangerous and troublesome we face ecologically speaking, and (until now) most just go to the landfill to sit for hundreds if not thousands of years awaiting decomposition.
But now, ReuseThisBag is turning these wasted bottles into unique and reusable bags from 80% RPET! (The R stands for "recycled" by the way)
These custom reusable bags are soft to the touch on the inside, and have an outside glossy or matte finish (you choose). They can be printed in spot colors or in full CMYK color! An easy way to explain CMYK color is that you could take a picture or the New York skyline and literally wrap it around all 4 sides of the bag if you wanted to. Lastly, you can choose handle length and color, trim color, and the size you wish to go with.
Best yet, RPET bags are making something reusable from something that has always been single use item and helping to clean up the world!
To see more, check out http://ReuseThisBag.com