How To: Protect Your Garden From Rabbits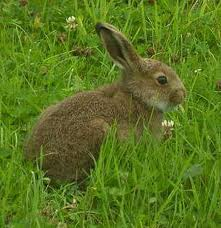 I grew up in the country. We once had some escaped cows in our front yard but I don't ever remember bunnies eating my Mom's petunias. When I moved to the "big city" with my husband, I planted all of my flowers with care only to have them chomped to the ground by all of the bunnies roaming around our backyard and living under our deck. I have since become wiser and have successfully kept my flowers and vegetables healthy without those pesky rabbits taking bites of all of my tender seedlings. Here are some upcycled ideas for keeping bunnies and other rodents away from your garden.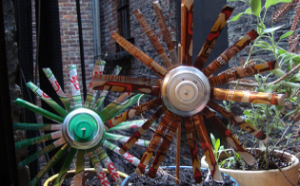 1. I love these pinwheels. They are made from upcycled soda cans and you can find a step-by-step tutorial complete with a video at the Go Green Blog. They make noise when the wind blows and look pretty. The noise and movement will scare away some rabbits.

2. Hair. We used the hair from our do-it-yourself summer haircuts and sprinkled it around the seedling. I had mixed results. The scent seems to keep them away at first. Unfortunately, the wind blew most of the hair away and we had more garden than we did hair.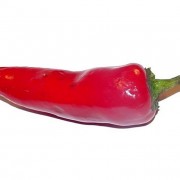 3. Hot pepper spray. This is available commercially but you can upcycle your own with an old spray bottle and this recipe I found at Organic Gardening Forum Ingredients:
6 Hot Peppers, the hotter the better
2 Cups Water
1 quart Water
Instructions: Put hot peppers and two cups of water into a blender. Mix at high speed for 1-2 minutes. Pour into a container and set aside for up to one day. Strain liquid through a cheese cloth. Add liquid into a one quart container. Fill container to top with water. Apply liberally to plants. Re-apply every week to two weeks or after a rain.
I have tried this with success. It really does repel rabbits, deer and other rodents. My only complaint is that I grow enough flowers and vegetables that it is a bit labor intensive to continue to make the spray and reapply it every time it rains. It is a good choice for smaller gardens.

4. Moth balls. You could reuse last years moth balls and in a way it would be at least recycling. You scatter them around the plants. I have tried this and it works 100%. However, I won't be doing it again. They smell awful and moth balls melting into the soil around the vegetables you are going to eat cannot be good. Plus, they look like little mints and I wouldn't want a certain 3 year old eating one.

5. Plant cages or garden fences. In the past, I have made a variety of plant cages from upcycled materials. Chicken wire, dowel rods or sticks placed around the plant and then twin woven around the sticks, and even a fence around my little garden made from anything I could find: old fence pickets and a variety of other wood and stakes. This worked as long as there weren't any opening that they could fit through or jump over. I don't have any pictures because it wasn't the prettiest thing you will ever see but function won out over form that year.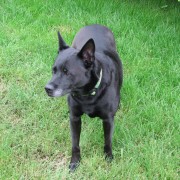 6. A dog. If you want all of the rabbits to survive then a Dixie Dog is not the answer for you. That being said, our dog does help to deter some of the rabbits. She usually just chases them away but we have had at least two causalities in the last 10 years which resulted in crying children and Thumper funerals.

7. Soap. I learned this from an apple farmer. They hang bars of soap in their trees to keep the deer away. I tried this last summer and it is by far my favorite and possibly the most effect technique. Cut up a bar of IVORY soap and sprinkle it around your plants or if you are concerned about adding anything to your soil, place larger chunks of the soap on saucers and place it around your garden. I only applied twice and it kept the rabbits away all summer.

Happy Upcycling,
Jill