Playing UP at Dog Days Guitar Straps
Tuesday, October 21, 2014
At Dog Days Guitar Straps, founder Bryan Kaufman has a simple, yet bold mission: Create the ultimate guitar straps out of the ultimate designer fabrics. He offers a growing selection of guitar straps that are available in over 40 different fabric styles, including some very special, upcycled, vintage fabrics from the 1960s and beyond. Bryan has created his business model thoughtfully, supporting the notion that upcycling is a critical addition because "sustainable practices are essential to giving to future generations on this planet the opportunity to preserve a high quality of life."
Recently we reached out to Bryan and probed his creative mind to hear more about his journey into upcycling and where he draws his inspiration from. Be sure to check out Bryan's website http://www.dogdaysvintage.com and read on to see and hear more about his amazing upcycle guitar and ukulele straps.
Tell us about your background and what you were doing before you started Dog Days Guitar Straps.
"My professional background is in retail, where I've spent the last 7 years in various roles learning about process improvement, manufacturing, and online marketing. My personal background is that of an avid music lover who has been dedicated to playing the guitar since I was 12 years old, inspired in large part by music from the 1960's such as The Beatles, Jimi Hendrix and The Doors. I also enjoy recording, mixing and mastering music in my home recording studio." 
Where did the idea of vintage guitar straps hatch?
"It all started when I walked into my local vintage clothing shop, I came across a fantastic cut of old drapery from the 1960's, I immediately fell in love with the velvety texture and the paisley design and thought "I would LOVE to have a guitar strap made out of this fabric." I began wondering what my personal ultimate guitar strap would be, and began working on my own design. Ironically, most of the research in this endeavor I'd unknowingly already done over the last 10 years, because I had purchased over 20 different straps from all of the popular brands for my personal use. Over time, I became bored with the other guitar straps on the market, the majority of other straps available were flat and lacking texture, even if the build and design was great, I was still left wanting more, no matter what the price-point. In general, being so deeply inspired by the fashion and music of the 1960's has led me on the journey of wishing to bring the colors, styles, and fabrics back into every day life, for me personally, for my friends, and for my fellow musicians."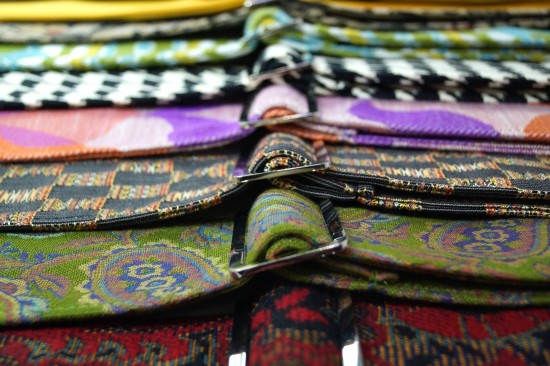 We can tell that you are passionate about music and solid, quality, retail experience. Tell us more about why a high quality strap is so important to you as a musician and business owner.
"For the touring musician, a high quality strap is peace of mind, knowing that their $2,000 guitar is not suddenly going to drop to the floor when the end tab rips or the plastic snaps, I want musicians to know that they're in great hands when using our straps, that many of our straps may be made out of vintage fabric, but they're going to last a lifetime and don't need to be treated like they are antiques, even though some of them contain antique fabric. Comfort is super important because the musician needs to focus on their playing, if you're thinking about how the webbing is digging into your neck rather than what your next riff is, this can cause you to become distracted and can effect the quality of a performance. Our straps are designed to optimize performance, in fashion (look), function (build) and feel (comfort)."

Where does upcycling come into play? Why is this such an important part of your business model?
"Upcycling is important to me because I believe that following sustainable practices is essential to giving future generations on this planet the opportunity to preserve a high quality of life. From the way that we burn fuel, to the way that we treat animals, we're beginning to see the result of decades of unsustainable practices on our environment and society beginning to effect our daily life, and it's important that we lead by example and change our habits as individuals if we are going to eventually see a greater degree of change reflected on a global scale. I've taken small steps in that direction personally, by no longer consuming meat and eating organic whenever possible, by no longer supporting companies that do not have the good health of the public in their best interest, and by minimizing my fuel consumption. As a small but growing business, Dog Days is more and more focused on sustainability… we're in the process of designing high quality cruelty free end-tabs as optional replacements for the leather ones, and almost half of the fabric that we use to make our guitar straps is reclaimed, and "True Vintage." "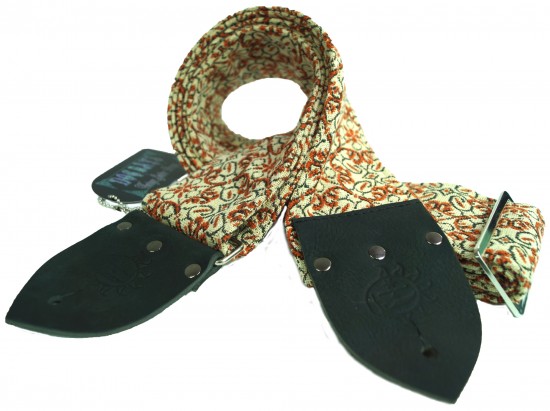 We love that you call your office and manufacturing area the Doghouse. It really provides us with a lasting and fun impression of your branding. What is a typical day in the Doghouse like – who are the key players?
"We are a small, family owned business… I manage the marketing, sales, catalog and leather work, my mother does much of the sewing, and my father processes the majority of our shipments. All of our guitar straps are manufactured in house by hand with an attention to detail and a focus on quality. Santa Cruz locals often stop by the Dog House and bring in their favorite instrument, carefully selecting the bast match for their instrument out of our selection of 40+ different patterns. Sometimes the strap even matches both the interior of their case and their instrument! 

We are one of many other local businesses stationed in a 300,000 square foot industrial building called University Business Park that was at one time a Wrigley Chewing Gum factory, just off of Highway 1 on the west side of Santa Cruz. I enjoy being a part of this historical building because it reminds me of a time when manufacturing was important in America, a state of mind that I think is important we return to."
Three Words: Challenging, Rewarding and Unique. Go.
"Challenging: Although nothing looks and feels better than a guitar strap that is made from the world's finest fabric available, some customers do not want to pay over $10 for a guitar strap, it can be challenging to toe the line between having the highest standards for quality and keeping our product affordable so that everyone can enjoy them and so that retailers are interested in offering our product to their customers.
Rewarding: The most rewarding part about my job is seeing how deeply our products are resonating musicians. When I witness someone find the perfect guitar strap for their prized instrument, it's like seeing the excitement of someone recognizing that they've found a long lost friend! It's extremely gratifying and makes all of the work worth while!
Unique: The most unique aspect of a Dog Days guitar strap is that our "True Vintage" straps, contain fabric that is no longer being made which makes these straps very collectible and we still price them the same as our other straps. Many of our fabrics can only yield 10 to 20 straps and once we sell through them they are not likely to appear anywhere else. Not only do we seek to use some of the thickest and most unique vintage fabrics that we can find, but we don't skimp, our fabric covers both sides of the strap minimizing sharp edges and giving musicians the full fabric experience."
Your products not only sound stellar, but they look down right fantastic too. Certainly there have to be a few memorable names out there supporting you, wearing Dog Days Guitar Straps. What artists are currently wearing Dog Days Guitar Straps?
"We currently have a nice mix of legendary, local and rising stars wearing our straps. Our most recognized artist, Uli Jon Roth is considered by many to be one of the best guitarists in the world, and I'd have to agree- he was lead guitarist for German rock band, Scorpions and then left the band to pursue a wonderfully artistic solo career. Uli is touring through November in Europe on the "40th Anniversary Scorpions Revisited Tour" and will be releasing an album soon. " Please check out our artists page for more information on some of the artists that are wearing our straps www.dogdaysvintage.com/artists/
Two last thoughts. The first being if you could travel anywhere in the world for upcycling inspiration, where would you travel? And lastly, if you could travel anywhere to gather materials for your upcycle "True Vintage" guitar straps, where would you go?
"If I could look anywhere in the world for upcycle inspiration, I would go to nature first and foremost. In particular the Amazon rainforest. There is such a large amount of diversity and so much life yet it has the potential to sustain itself beautifully for aeons. From the animals living at the tops of the trees to the insects living deep below the ground, there is almost no waste and complete abundance of resources in this environment that is teeming with life. There are animals that eat the fruit of the trees above and their feces help fertilize the soil and disperse the seeds for new healthy vegetation to grow. There are predators on the forest floor and what the predators don¹t consume, scavengers will make the most of. Aside from the animals, the indigenous tribes that live in the jungle live in much greater harmony with nature than we do in our cities, with great knowledge of the medicinal and practical value of the plants and animals that they share life with. And if I could travel anywhere for fabric to up cycle I would go to Japan. I have a lot of appreciation for the ornate designs of Japanese fabrics that have traditionally been used to make Kimonos with, these fabrics are really beautiful, I would love to get my hands on some of that fabric to upcycle into some very special high end guitar straps."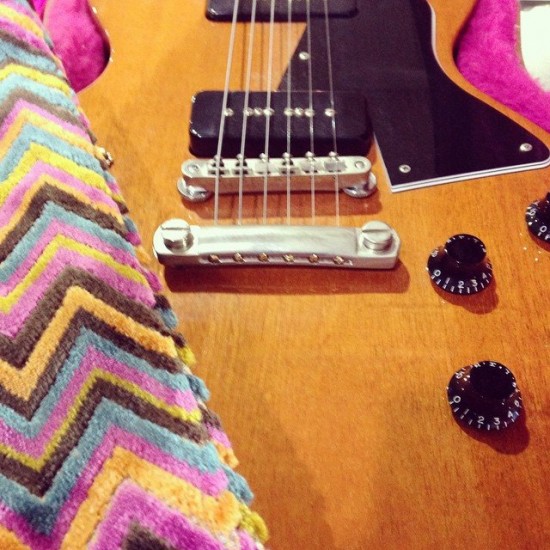 We feel very fortunate to feature Bryan and his Dog Days Guitar Straps here on Upcycle Magazine. You can read more about Bryan and check out his products at http://www.dogdaysvintage.com
You can also follow Bryan and Dog Days Straps on social media here:
Facebook: https://www.facebook.com/ddvintage