"Transformer" Upcycled from Old Car
Thursday, February 10, 2011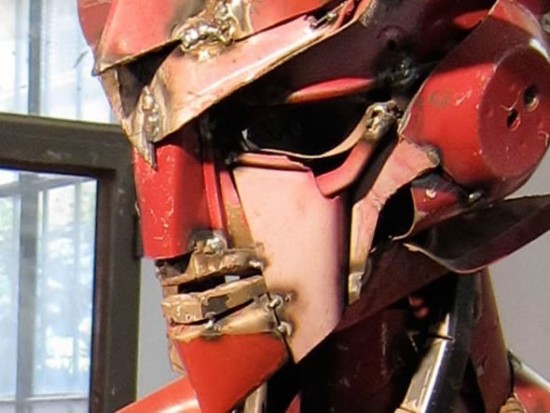 A robot sculpture made from an upcycled old car? You bet.
You are looking at a 200lb, 6'6″ tall statue named "The Transformer," created by Netherlands-based artist Nikola Nikolov and his studio Studio-Re-Creation. This amazing piece of art was completed in Spring of 2010, and was built by deconstructing the artist's first car and welding it back into… well… a Transformer. In the artist's words, "The Transformer symbolizes the relationship between man and machine. Our first car, a Lada Samara Diva, has been re-created into a powerful figure. 'The Transformer' stands in a position of ready surprise. He is in the moment between knowing what he was and knowing what he has become."
We are big fans of Nikola Nikolov. His entire studio is founded on the principle of "re-shaping wasted or discarded materials and transforming them into iconic art & design objects." But it's more than that – they build their creations from items that are personal to the client. In other words, you can take him items from your past – things that were special to you but have lost their value or usefullness or just don't fit in your life anymore – and Studio-Re-Creation will transform them into art – to "preserve belongings and memories that would otherwise be neglected or thrown away." We think The Transformer is a perfect example. Congratulations, Nikola, on a really cool piece!