Hands-on Review: eco smart Cutting Board
Thursday, January 27, 2011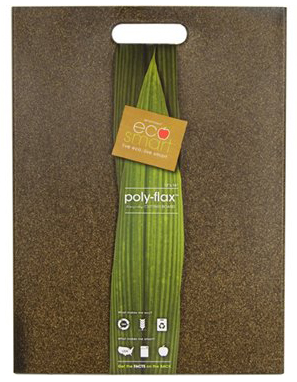 The eco smart poly-flax is a super-cool, earth-friendly cutting board from our friends at architec. Architec is known for making hip & unique kitchen supplies and for their efforts in green manufacturing. These cutting boards are designed to be functional and visually stunning at the same time. They're made in the USA, come in three fun colors, cost around $20, and are part of their "eco smart" line which features a ton of great environmental-friendly bonuses.
What makes it "eco smart?"
Even though it looks like a regular plastic cutting board, it's actually constructed of upcycled food-grade plastic that has been blended with flax husk to create a more earth-friendly plastic with a cool "speckled" appearance. Flax husk is usually discarded as an agricultural by-product of producing flax seed. Using it in the cutting board significantly reduces the amount of plastic needed. That's a big win. Architec says that each cutting board saves the equivilant of 60 plastic containers from ending up in landfills. Win #2. It's produced in their 95% waste-free manufacturing facility, right here in the US, which gives it a much smaller carbon-footprint compared to imported cutting boards. Win #4. When the cutting board eventually wears out, it is bin-recycleable with #5 plastics, OR… this is cool… architec will actually give you a free pre-paid shipping label and take the product back as part of their "Eco Smart Take-Back Program" so it can be recycled into other products. Win #5. Even the packaging is printed on recycled paper. Win #6. That's a lot of wins! :-)
But is it a good cutting board?
Yes. After using it for a couple months now, I can say this is one of my favorites. At 12×16″, it's a good medium-sized board, perfect for most kitchen jobs. It's light-weight and easy to get in and out with it's built-in handle. It's dishwasher safe (unlike wood boards) and it's durable (unlike those flexible roll-up cutting mats). The poly-flax seems to do a good job of resisting scratches and stains. In fact, we found the plastic blend to be remarkably durable but not dulling on our knives – just the kind of balance you want!
Bottom line?
We recommend it. Enthusiastically. It's fun – it's well-designed – and all the eco benefits make it an easy decision in our mind.