New Ways To Use Silly Bandz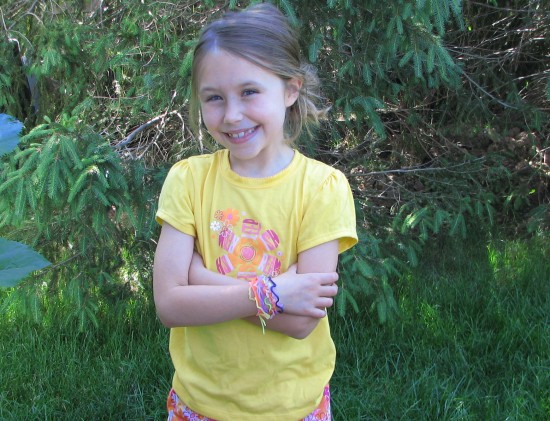 See this cute little girl. Here she is wearing just a small portion of the silly bandz that live in our house. The craze hit us hard last spring and summer. I would like to say that we don't always fall for the latest and greatest but silly bandz seemed relatively harmless and are very inexpensive. Of course, the craze has passed. They still wear them on occasion but mostly I just find them in random locations around the house. My first instinct was to just toss them but really that doesn't go very well with my spirit of upcycling even if they are small. So, how can you upcycle silly bandz? Here are a few of my ideas for new uses for silly bandz:
1. Hair ties or pony tail holders. They work great in this capacity. They hold your hair well and add a little punch of color.
2. Napkin rings. Wrap them around paper or cloth napkins. You could use them at a picnic to hold silverware rolls in place.
3. Drink Markers. Wrap them around cups or even wine glasses. Since there are so many colors, guests or even your children could identify their drink by the color of silly bandz.
4. Tie socks together in the wash to keep from sorting them later.
5. Flicking game. You can flick or fling them like rubber bands. Set up a goal and see who can get their bandz the closest. This is fun, we made it up while waiting for piano lessons.
6. Sorting game. Have toddlers or preschoolers sort by color and try to name the shape.
7. Use them to wrap around gifts in place of bows.
8. Keep them for like 20 or 30 years and then they will be retro cool. If only I still had my jelly shoes…
Happy Upcycling!
Jill
*Silly Bandz is a registered trademark of SillyBrandz Global, LLC