How To: Make a Crayon Roll
Wednesday, February 2, 2011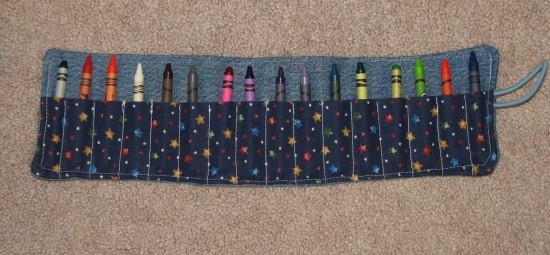 Your little artist will love having his own crayon roll. Each crayon has its own little pocket which makes for easy clean-up. The rolls are portable and can easily fit into a purse or diaper bag. They are hard to find in stores, especially ones as cute these, but you can make your own with just basic sewing skills.
A few months ago I saved a stack of clothes from the trash. I was at my parent's house and my mom was about to toss them because "they are so old and out of style that I don't think the Goodwill would even want them." She did wait to show them to me first before the final toss. Of course, I took them all home and I am determined to upcycle as much of them as I can.
It didn't take long for a project to present itself. Crayon rolls! I once toted our crayons around in plastic baggies. I know….I know…I know..It was very bad. I have since remedied my ungreen ways. Crayon rolls keep every crayon in its place and will keep them from rolling onto the floor in places like restaurants, doctor's offices and church. I made three of them in about three hours so it really doesn't take much time. We have received so many compliments that I plan to make more as gifts. You could make them taller and use them for colored pencils and pens too.
To make my crayon rolls, I used either scraps from past projects or upcycled material from the stack of trash bound clothes. My favorite use of the fabric is the boy version of the crayon rolls. I used the leg of a pair of "mom jeans." The little stars are from scraps I saved from iron-on patches. I used buttons from my stash of extra buttons that come with some clothes. The elastic is a hair tie. My son loved the end result.
I spent some time looking around for a great pattern for crayon rolls. This pattern from Lindsey at The Pleated Poppy was by far my favorite. Her directions are clear and very easy to follow. The only change I made was that I didn't use a flannel liner for stability in the roll I made with denim. The denim was thick enought without it.
Happy Upcycling,
Jill