How To: Make a Pumpkin From Scraps
Sunday, November 11, 2012
We are still counting our blessings here and enjoying the Thanksgiving Season. This week we are focusing on getting our homes and families ready for a day of gratefulness. It's not Christmas yet…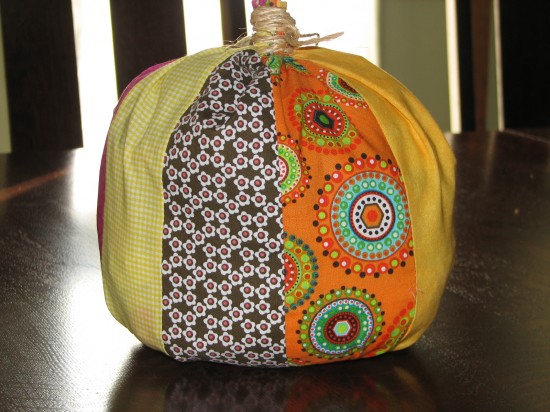 First up, a scrapy little pumpkin. Made with fall colored material scraps and stuffed with old newspaper. It is fun, easy and looks great in any room of your house.
Materials:
1. Material scraps in a variety of fall colors.
2. Twine
3. Newspaper or upcycled wrapping or tissue paper
4. A very small amount of sewing ability
5. Scissors
6. Sewing machine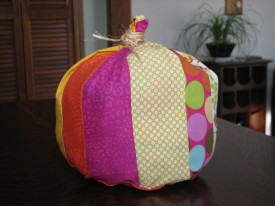 To begin, determine  the size or sizes you want your pumpkin to be.  This pumpkin is about 8 inches tall. Now you will want to make the bottom of the pumpkin. If you are using felt cut out the exact size that you want. I cut out two, 5-inch circles and sewed them right sides together (leaving a small opening) like I was making a little pillow and then turned it right side out.  I did this because I knew I would not be good at making a little hem around the circumference of the circle.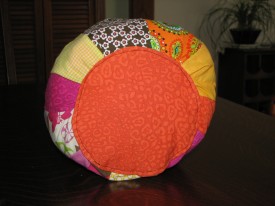 Now, cut your scraps to make the outside of pumpkin. The width of my strips are not all the same. I let the scraps determine how wide they were.  I used ten, 10-inch long stripes and they ranged in width from 1.5-3 inches. Next, sew them together to form a cylinder shape.  Attach one end of your cylinder to the circle you already made and leave the other end open.
Finally, stuff your pumpkin with whatever you have on hand. I used  a little bit of upcycled tissue paper and a little bit of newspaper. When your pumpkin has reached its desired plumpness, gather the open top and tie it up with twine. Wrap the twine around a few times to form a stems before tying it off.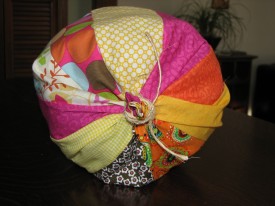 There you are, all done. When Thanksgiving is over, untie the twine and take out the stuffing. Now you can store it flat and re-stuff it next fall.
Happy Upcycling,
Jill