How To: Make A Milk Jug Storm Trooper Helmet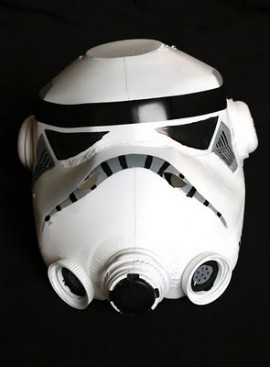 One of the best gifts I ever gave my now husband was a life-size, stand-up, cardboard Storm Trooper. He is a Star Wars fan and when I came across the Storm Trooper, well…I had no choice but to buy it. My dear friend loaded it in her car and drove it across the state with me so I could give it to him. Ahhh, love! Interestingly,  after college and  having kids we really didn't need a big Storm Trooper anymore. We sold it at a garage sale a few years ago and completely made a young man's day.
When I saw this post with complete instructions for making a Storm Trooper helmet from upcycled milk jugs, I jumped with glee. Lyndsey from Filth Wizardry is awesome! Your next birthday is going to be a Star Wars party. Go finish your milk and get started.
Complete instructions are here.
May the force be with you,
Jill