How To: Make a Chicken Coop From Upcycled Materials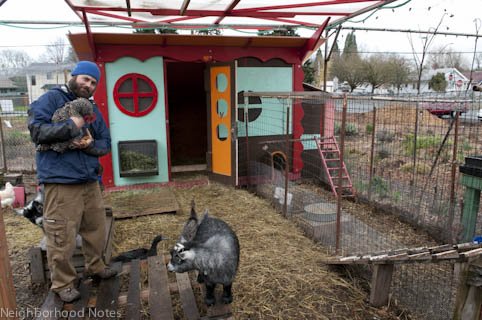 Look at this cute upcycled chicken coop. Any chicken would be lucky to call this place home!
We have happily noticed an increase in urban farming. Families who have never gardened before are starting small gardens in their back yard and communities are working together to form large gardens or planting areas. Along with this push to become involved with growing our own food, is the ever increasing group of individuals raising chickens and other small livestock in urban settings. Raising your own chickens is a good place to start. They can provide your family with organic eggs right out your back door and a lifetime supply of nutrient rich chicken manure. We think this is sustainable farming at its finest!
If you would like to consider raising chickens, the green folks at neighborhood notes have links for building plans and thoughtful tips for building your own chicken coop from upcycled materials. If you are going to build a chicken coop, using upcycled and in some cases free materials is the best way to go!