Hands-On Review: Zulugrass Jewelry from The Leakey Collection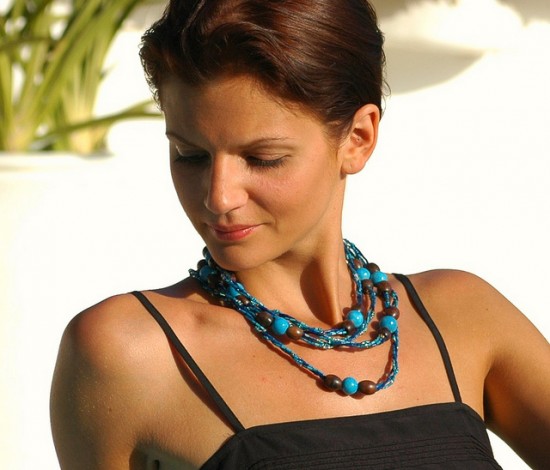 For the last few weeks I have been wearing this elegant Zulugrass jewelry. I must admit that when I first heard of jewelry made from grass, I thought that it would look primitive or rustic. I was wrong and pleasantly surprised at the elegance and beauty of this jewelry. It is versatile and can be worn with your best dress or your favorite jeans. The strands are light and comfortable to wear. The single strands can be worn in a variety of ways from a bracelet to a belt, necklace or even a ponytail tie. This jewelry will be added to some of my favorite go to pieces. Better yet, the elastic will hold its shape for over six years even if it is worn daily in the sun, shower, pool or ocean.
Zulugrass jewelry from the Leakey Collection is handcrafted by the Maasai women of Kenya. It was started by Philip and Katy Leakey who live among the Maasai in Kenya's rural Rift Valley. After a devastating drought that ended in 2001, the men of the Maasai were forced to leave women and children behind in order take their surviving cattle in search of grazing land. During that time the Leakey's were supporting nearly 100 Maasai families. This was not sustainable so Phillip came up with the idea of making jewelry from the surrounding grasses. Through trial and error the Leakeys were able to create Zulugrass jewelry that the Maasai women could assemble on their own. Phillip and Katy help to set up mobile work stations in Maasai communities. Work sites are set up only after being invited or requested into a community by Maasai elders. The Leakey Collection offers employment opportunity to over 1200 Kenyans.
The grass beads are made from a tall and hollow grass that is harvested and cut by hand. The hard and durable grass is dyed using textile dyes and then the grass beads are combined with hand-blown Czech glass beads and Japanese glass beads on an elastic. Before the grass was made into jewelry, the Maasai would burn the grass because their cattle would not eat it and it prevented them from moving through areas to get to grasses they could eat. Since the grass is no longer burned, this project also helps to preserve the wetlands that were destroyed when the grasses were burned.
The Leakey Collection also includes pieces made from Zuluwood. The wood is collected from fallen wood from sustainable tree species and then hand tooled and burnished into beautiful shapes. There is no wax, lacquer or varnished used in any of their wooden beads or wooden products.
Visit The Leakey Collection to see their entire line of eco-friendly jewelry. You can learn more about the Leakeys and the Maasai people by clicking here, or follow their blog here. This is the perfect jewelry for summer and it feels good to look good and know you are making a difference in the lives of women and families thousands of miles away.