How To: Make a Girls Skirt From a Men's Shirt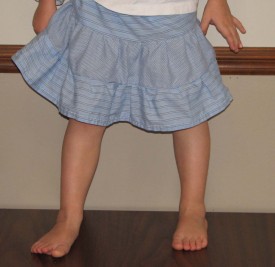 Men's dress shirts are a great source of upcycled fabric. My husband usually wears out the elbows in his shirt and the rest of the material is in great shape. I made this twirly skirt from two of his shirts. It is basically just three loops of fabric sewed together with an elastic waist. Pretty easy for a novice seamstress such as myself.
To salvage the fabric, use either scissors or a rotary cutter and cut along the seams at the back and sides of the shirts. I was unable to salvage enough fabric from the sleeves but you might be able to use the sleeves too. Save the buttons, collars, and cuffs for later projects. Now you should have plenty of fabric to make a skirt for a toddler or preschooler. The skirt I made is between a size 3T and 4T.
I have now made 4 of these skirts and the clearest pattern comes from the good folks at indietutes.You will find free step-by-step instructions and pictures showing you how to assemble the skirt. If you are feeling particularly adventurous, they have a pattern here for using even smaller pieces of fabric. Now get to work so your little princesses can start twirling!
Happy Upcycling,
Jill