Felted Wool Valentine Runner
Wednesday, January 16, 2013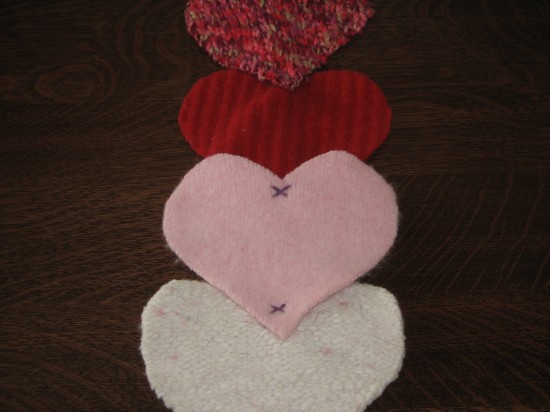 This fun table runner was made by one of my friends. Isn't it cute? It is a fun and easy project that you can have on your table in no time.
How to make the table runner:
1. Select materials. This is made of old wool sweaters that have been felted. Learn how to felt wool here.
2. Draw a heart template from sturdy cardboard.
3. Using chalk, trace the template onto the wool.
4. Cut out the hearts using sharp sewing scissors.
5. Lay out the hearts in a pattern you are happy with. Look carefully at the picture. You want to make an "over/under" pattern with the hearts so you can see the heart shape. Another variation would be to line the hearts up horizontal.
6. Sew the hearts together with a contrasting embroidery thread using a decortive "X."
7. Put it on your table and have dinner with the loves of your life!
Happy Upcycling!
Jill