Etsy Feature: Upcycled "Woolies"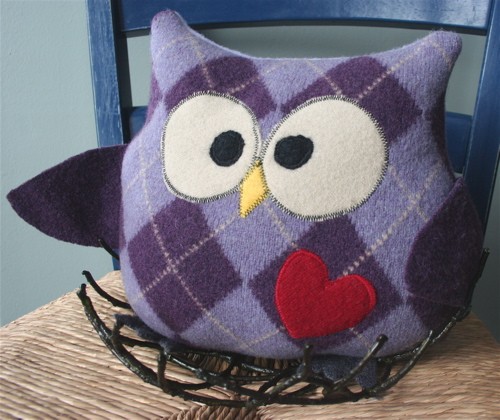 Leanne of Noble Upcycling repurposes old wool sweaters into felted woolies in the form of mittens, slipper socks, blankets, bags and stuffed animals.
Leanne started upcycling when she turned her first disastrous sewing endeavor into a dust rag! Well, her sewing skills have come a long way since then and she is now able to craft adorable stuffed animals, mittens, slippers, bags, and blankets. All of her creations start as old wool sweaters. She felts the wool before turning the sweaters into "woolies." Some of her most "gorgeoriffic" pieces start as perfectly hideous sweaters.
With a nice variety in her shop, her favorite piece is her owl she named Hoot. "I just adore
making this lil' guy, and he provides such a nice opportunity to use the eco-cheesy line,'Give a Hoot if you give a hoot!'" We would have to agree. Hoot is what drew us to her shop. He would make a great gift for a child but would also make a fun home decor item. We love that each of her items are unique and handmade. Great job Leanne!
You can buy your own from her Etsy Shop or if live in the Ontario area, you can visit her at Ecofest Barrie in June.