Etsy Feature: Upcycled Key Jewelry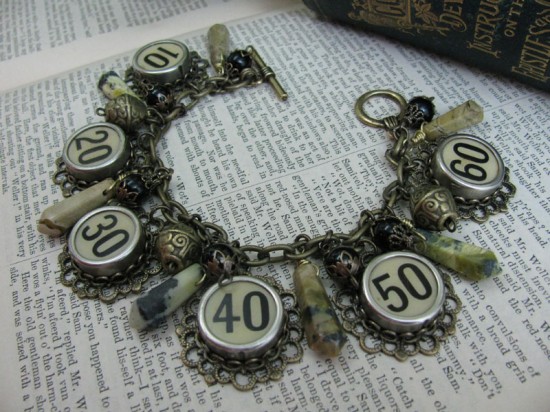 Anne Jansen of St. Louis and The Key of A takes what was once consider ordinary and turns it into beautiful, wearable works of art.
A hundred years ago, type writers and skeleton keys were considered common utilitarian items that were found in many homes. We can now look back at these items and see the beauty and the history. Anne's line of vintage inspired jewelry and accessories utilizes authentic keys of all types including typewriters, cash registers, skeleton, watch, clock and piano of the early 1900's. Of recent, her line has expanded into the upcycling of other refound objects, reclaiming old chandelier parts, watchmaker items, optician lens, unique and different game pieces, railway/transit tokens and more into wearable, fashion forward jewelry. Her styles emulate the era from which these components originated and as a collection, they clearly show her love for anything vintage, historic or antique in nature.
Jewelry design began for her five years ago with a single Underwood typewriter. She so loved the idea of the old keys being worn as jewelry and the mystery that surrounded every type of key that it inspired the tag line that she uses on the homepage of her website today which says: "Who knows what words were written, locked doors opened and melodies played, using these very keys??!!"
With the eye of a true artist, Anne is able to surpass her competition in both styling, design, variety and wearability. She makes use of every key, strategizing how each key or keys can best be "reborn" into one of her designs. She flawlessly designs her pieces so that the keys look like they were made to be together.
If you are looking for a truly unique piece of jewelry, then The Key of A is the Etsy store for you. You will be wearing a lovely piece of history that will be sure to draw attention. Elegance and quality shine in her pieces. To see even more of Anne's lovely work visit her Etsy shop, her new etsy shop that features jewelry made from vintage transit token, or her website. She attends Art Shows and Art/Craft Shows/Festivals around Missouri and and southern Illinois. You can follow her on facebook or check her website see her schedule.