Etsy Feature: Upcycled Jewelry From Jessie Katz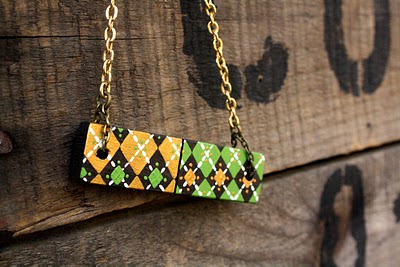 Meet Jessie Katz, a formally trained artist and graphic designer from Nyack, New York. Among her many artistic endeavors, Jessie crafts creative and trendy jewelry from recycled and repurposed materials. The materials she uses include: plastic gift and credit cards, vintage and broken jewelry, scrap wood and more. The necklace she shared with us is crafted from a piece of scrap wood left from her Dad building the neck of an octave mandolin. The handmade necklace is beautiful, unique and well-made. We love the story behind it too!
Some of Jessie's most popular jewlery items are made from plastic gift and credit cards. In fact, her upcycled earrings were featured on The Today Show during Earth Week 2011. Great job Jessie.
Check out her Etsy shop Designosaurus. You can follow her on facebook, or check out some of her hand drawn typography here. We think you will love her colorful, wearable works of art.