Etsy Feature: Upcycled Jewelry

Something old, something new, something borrowed, something blue and a penny in your shoe! Tanna Paradis, the creator of Love Honor Upcycle, takes something old and turns it into something new much to the delight of the many brides who have worn her beautiful vintage jewelry on their wedding day.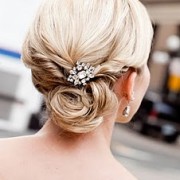 Starting with her own wedding day, Tanna takes vintage and thrifted jewelry and transforms them into beautiful and glamorous pieces. She makes a variety; everything from hair combs to bracelets and cufflinks. You don't have to be a bride to wear her jewelry but that is the time when many women prefer to wear her elegant "lovelies." Tanna has always made things from found objects and she loves vintage hats, purses, and jewelry. In Love Honor Upcycle, she has found a way to combine the two and the results are adornments so elegant and exquisite that brides chose them for their special day.
Tanna still continues to thrift for her pieces. She places her latest finds in the drawers of an antique dressing table. Considering each new find with plans to recreate the piece in a classic fashion reminiscent of the style of Coco Chanel. She has also created heirloom jewelry from customer's family pieces.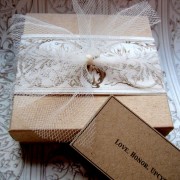 Tanna uses green practices throughout her business. She uses recycled packaging and boxes for each shipment. To view Tanna's complete collection visit her Etsy Shop here and her Website here. We think you will be looking forward to your next special occasion. Lovely work Tanna!